The Integrated Program for Street Children is a national program operating in 56 cities in India. I-India operates 11 day 'centres' in Jaipur. The program targets homeless children living alone, or with their families, on the street. It provides education, health care, nutrition and legal help. It also seeks to reunite runaway children with their families.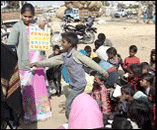 The day centres are operated at street points such as sidewalks, slums and the railway station. They are usually no more than a rug on the ground or a wall-less, canvass area of shade, but they are the last line of care for children who have fallen through society's cracks.
These children may be forced to work because of poverty, or there may be no nearby government school, or they and their parents may have not appreciated the value of education. The Integrated Program for Street Children reaches out to them by bringing education to where they live. I-India's 11 centres help 700 children every day.
Like the School on Wheels, the Intergrated Program street centres are child-friendly and teach hygiene and social behaviour as well as Hindi, English and Maths. A difference between two programs is that School on Wheels has two teachers working for two hours in each of three centres, whereas the Integrated Program has one teacher working in one centre for six hours a day.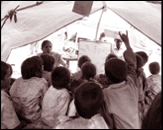 Regular visits by the Ambulance ensure that the health of the children improves. They receive medical treatment and vaccines, and develop the courage to go to hospital. They also learn of the dangers of tobacco and drugs, and are made aware of sexually transmitted diseases and HIV/AIDS. Local communities appreciate the project and, on seeing the results, are invariably eager for it to continue.

The Integrated Program is funded by the Ministry of Women and Child Development, Government of India.