SHETAARK is a collaborative project between Flowering Tree, USA and I-India, Jaipur to run street schools for transient communities. The project sparks a light of learning, empowerment, personal growth and development for street children through its 16 street schools/centres. It offers a safe and nurturing place for learning and growth for the street children of Jaipur who do not have, or cannot obtain, formal schooling.
The day centres are operated at street points such as sidewalks, slums and the railway station. They are usually no more than a rug on the ground or a wall-less, canvass area of shade, but they are the last line of care for children who have fallen through society's cracks.
Shwetaark brings committed teachers and staff to children right where they live. The ultimate goal of this project is to inspire and launch the children to the point of mainstream education as well as to operate full-fledged schools.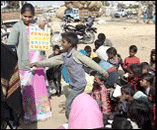 These children may be forced to work because of poverty, or there may be no nearby government school, or they and their parents may have not appreciated the value of education. The Shwetaark reaches out to them by bringing education to where they live. Over 1000 children in 16 different locations have been reached out daily through these schools/centres during this year.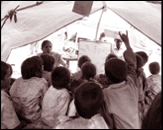 Regular visits by the health workers and doctor at these schools (centres) ensure that the health of the children improves. They receive medical treatment and vaccines, and develop the courage to go to hospital. They also learn of the dangers of tobacco and drugs, and are made aware of sexually transmitted diseases and HIV/AIDS.

The Flowering Tree INC is a project partner and effectively involved with I-India on designing and jointly implementing Shwetaark activities.